Suspended Ceilings Coventry and The Midlands
Being a major component of modern day architecture and construction, they are also referred to as dropped ceilings. Made by using metal grids systems, such ceilings are widely used in the residential and commercial sector. Team ABC provide top of the range suspended ceilings, we do this by putting in place a secondary ceiling that is offset from the structural ceiling. using sets of wiring the dropped ceiling is suspended below, with a metal grid filled with the desired tiles. Available in various styles that will suit the need of different structures, the ceiling tiles are manufactured by using a mixed blend of mineral fibres. These tiles mainly used because they are ideal for easy access for any maintenance or repair that may be require in the future after the suspended ceiling is put in place.
A suspended ceiling is commonly used form of construction that allows the client to add a certain aesthetics to any given space, residential or commercial. A suspended ceiling not only provides function and practicality but gives a room a stylish edge. Although it is placed above, the ceiling of any given premises is a vital part of any structure, hence the reason it improves the practicality of said workspace. Yet there are many positives to a suspended ceiling, you can only see the benefits of such complex work if it carried out by professionals, that why we pride ourselves on client satisfaction when installing our high standard suspended ceilings.
Commercial and Domestic Suspended Ceilings
Suspended ceilings are becoming ever more popular amongst homeowners and office owners nationwide. A suspended ceiling in a home can add a certain aesthetisity which many people desire and think looks great, yet there many other more important advantages to have a suspended ceiling, such as they are easy to remove  for any maintenance and are ideal for hiding any flaws that made have appeared in the construction phrase prior to the installation of said dropped ceiling.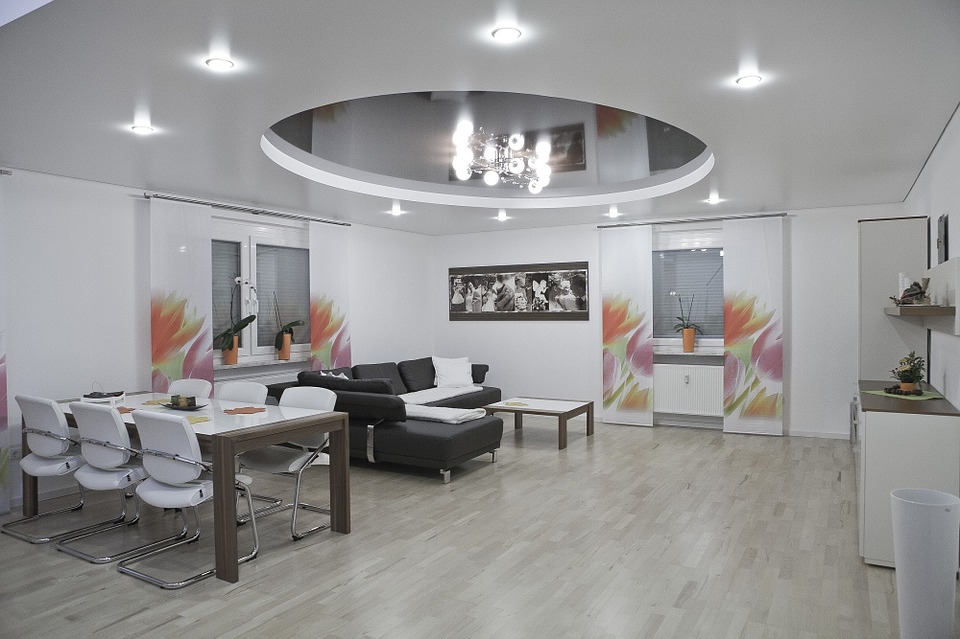 Suspended Ceilings from Team ABC
As suspended ceilings can be demountable, providing access to any work that may be required above, they are normally the first chose of ceiling offices owners and commercial buildings. They are popular in this particular sector as they are often used to conceal mechanical and electrical works within the ceiling void, this allows you to easily integrate light within the ceiling itself. Another benefit of suspended ceilings for commercial buildings is that they available with acoustic absorbing properties that reduce the reverberation time, improving the comfort of the occupants of said room or office.
As energy saving is a key aspect in the commercial, suspended ceilings are also ideal as the inherent thermal properties of the glass mineral wool in our ceiling tiles, the dropped ceiling contributes to energy saving by improving the thermal efficiency within the office as our ceiling tiles also have up to 85% light reflectance, of which more than 99% is diffuse reflection, helping the spread of natural and artificial heat and light.